The BSNL customer in Karnataka circle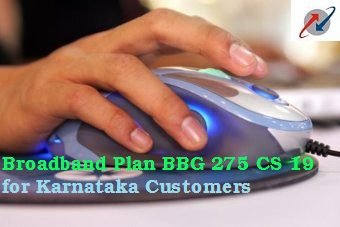 who are having broadband connection and  opted BBG 250 plan, now have to pay Rs 25 more per month because BSNL have revised FMC from Rs 250 to Rs 275 and also given a new plan name BBG 275 CS 19 (old plan name is BBG 250) specially for the Karnataka Broadband customers. These changes are effective from 1 June-2013.
The new customers must also know that this BBG250 is offering free 1GB data usage for a FMC of Rs 250 but now you will get 1GB data by paying FMC of Rs 275. Beyond free limit of 1GB, if you consume more data then you will be charged 30p per MB for additional data up to 5GB. If you consume more data i.e. more than 6GB, then you will be charged 15p/MB beyond 6GB. This data plan is useful for user who use less data otherwise for heavy data usage, this plan may cost you much more than any other higher data plans.
How much additional data cost you in this BBG 275 CS 19, let us assume that you consume total 8GB data per month then first 1GB is free, next 5GB data will be billed @30p/MB so total Rs 1500 for this additional 5GB and for next 2GB, you will be billed @15p/MB so you will be billed Rs 300 for this additional 2GB data usage hence total bill for 8GB will be Rs 275+Rs 1500+Rs 300=Rs 2075 (excluding FMC of landline telephone connection). You may get up to 2Mbps speed under this plan.
So for heavy data user, it is better to go for other higher broadband plan and one of the most popular plan is BB Home Combo ULD 950 which has FMC of Rs 950 and offers you unlimited free data along with 400 free voice calls on-net. The FMC of landline telephone connection is also included in FMC. The speed under this plan is much higher, you will experience 4Mbps up to 8GB data usage and thereafter 512Kbps speed.
Category: Data Usage
I have always been a fan of writing and love to share information on latest technologies, mobiles, gadgets and social media. Sharing and acquiring knowledge is a boon, do let's share as well as acquire it. I am very much fond of Coffee.