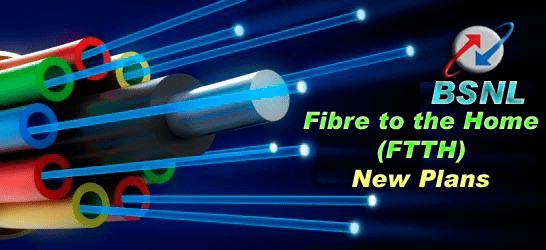 It may be frustrating when you are using a unlimited broadband plan at high speed and after a certain limit, you starts to get lower speed as per FUP but if you are a BSNL customer and using its FTTH services for your broadband services then there is good news for you.
BSNL today announced four "Speed restoration" add-on for its FTTH unlimited broadband plans. BSNL is offering usage of additional 2GB at original high speed for just Rs 100, 5GB for Rs 200, 10GB for Rs 300 and 20GB for Rs 500. The details are given as below.

Let us understand these add-ons by taking an example, if a customer is using  FiBro ULD 3999 plan then customer gets 10Mbps till 50MB data usage and after which speed reduces to 512Kbps but by using add-on of Rs 500, customer will be allowed to use additional 20GB at the speed of 10Mbps.
If suppose an another customer is using broadband plan BBG ULD 1275, he is getting 4Mbps till 20GB data usage but after this speed reduces to 512Kbps. Now with the use of add-on of Rs 200, he may use additional 5GB data at the original speed of 4Mbps.
All the above add-ons are available in all telecom circle starting today.
Category: Broadband
I have always been a fan of writing and love to share information on latest technologies, mobiles, gadgets and social media. Sharing and acquiring knowledge is a boon, do let's share as well as acquire it. I am very much fond of Coffee.