BSNL today announced two new combo unlimited broadband plans for all landline customers across the country and both plans will be available from May 10, 2014 as promotional basis for just 90 days.
BSNL has named these two broadband plans as "BBG Combo ULD 1445″ and "BBG Combo ULD 2799″ but while going through the details,  FMCs for both plans are set as Rs 1445 and Rs 2345 respectively. I think BSNL has mistakenly named "BBG Combo ULD 2799" in place of "BBG Combo ULD 2345".
Updated: BSNL have confirmed that  FMC, under the plan "BBG Combo ULD 2799″ mentioned inadvertently as Rs 2345 so the FMC for this "BBG Combo ULD 2799″ plan may be read as Rs 2799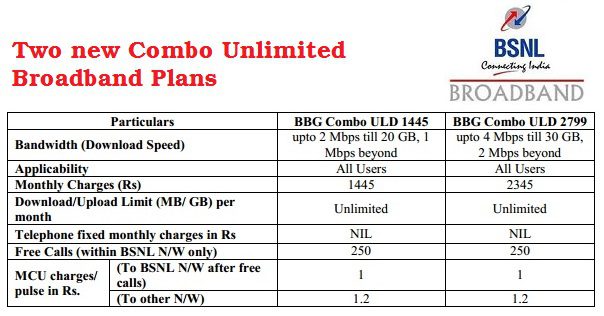 The details of both plans shows that "BBG Combo ULD 1445" will offer download speed upto 2Mbps till 20GB and thereafter customer will experience reduced speed of 1Mbps. BSNL is already offering "BBG Combo ULD 1445" with download speed upto 4Mbps till 20GB and 512Kbps thereafter but in new promotional plan, it has reduced download speed from 4Mbps to 2Mbps and increased speed FUP from 512Kbps to 1Mbps.
The broadband plan "BBG Combo ULD 2799 (?) [2345]" will offer download speed of 4Mbps till 30GB and thereafter speed will be reduced to 2Mbps as per FUP.
BSNL has also clubbed 250 free calls to be made within its own network with these both plans.
Category: Broadband
I have always been a fan of writing and love to share information on latest technologies, mobiles, gadgets and social media. Sharing and acquiring knowledge is a boon, do let's share as well as acquire it. I am very much fond of Coffee.