Those who have purchased tablets or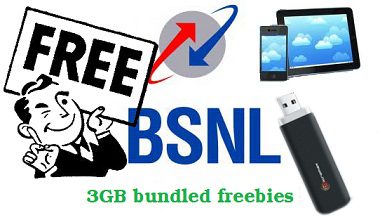 smartphones bundled with BSNL SIM earlier, are enjoying freebies of 2GB of data at 3G speed with a validity of 60 days but now BSNL have increased it and allowed the customer to avail 3GB of free data usage at 3G speed over a validity period of 6 months with a limit of 500MB free data usage per month.
BSNL have arrangement with tablet and smatphone vendors and BSNL supply such type of SIMs to vendors at a very nominal cost which are to be bundled with their product Tablets/smartphone. This SIM and freebies embedded with SIM are given to customer at free of cost.
Earlier BSNL were providing four types of SUK (Start Up Kit which is nothing but a new SIM) as follows.

The value of SUK is paid by the vendor to BSNL and its value is absorbed in the cost of product to be bundled so the "SUK with offer" is offered to customer at free of cost.
Now BSNL have scrapped all the above four bundled SUK offers and introduced a single offer for both tablets/ smartphones with increased freebies.
The value of SUK=Rs 30 (this is to be paid by vendor, not by customer)
Freebies:
500MB data download per month for next six month at the speed of 3G, hence total free data is 3GB.

50 Minutes On-Net voice call per month for next six month so total of 300min calls over a period of 6 months.
You can consume these freebies within validity period of 180 days.
To avail above freebies on your new tablet/smartphone, you have to activate this bundled SUK with a general plan voucher. The free data/voice calls offered with this plan voucher will be added with the above freebies offered with SUK.
For example, if you activate this SUK with plan voucher of Rs 70 for your new tablets, free data usage of 200MB offered with this plan voucher will be added to 3GB freebies of SUK so total free data usage will be 3.2GB.
If you activate the SUK on your new smartphone with plan voucher of Rs 42 (for per second call charges), then free call worth 1200 sec on-net and 600 sec on off-net will be added to 300 min of freebies of SUK.
So next time when you go for purchase a new tablet/smarpthone, inquire about this bundled offer of BSNL.
Category: Mobile Phones, Tablet
I have always been a fan of writing and love to share information on latest technologies, mobiles, gadgets and social media. Sharing and acquiring knowledge is a boon, do let's share as well as acquire it. I am very much fond of Coffee.