If you are a BSNL ADSL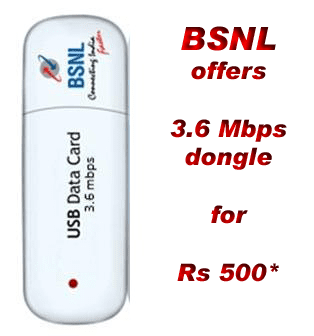 Broadband customer or planning to subscribe to BSNL's ADSL Broadband services then this time is to cheer up again because BSNL has again re-launched its earlier scheme of providing 3G 3.6Mbps dongle as back up to the existing and new ADSL Broadband customer at reduced price as low as Rs 500 only.
The main aim of the scheme is to provide you back up of your ADSL broadband services during the fault in ADSL Broadband services and to reduce the ADSL Broadband disconnection but this 3G dongle can also be used as a separate connection for you or your family members.
Earlier this scheme was launched on BSNL foundation day 1-10-2012 for 90 days, second time this scheme was again re-launched on 28-2-2013 for 90 days. Now again the same scheme is re-launched third time for a limited period of 90 days starting from 17-7-2013.
The detail of the scheme is not changed so its details may be seen by clicking here.
So those who have missed the earlier offers may rush to nearest BSNL customer service centre and grab the offer at the earliest.
In the market, this is the cheapest rate at which BSNL is providing 3G dongle to its ADSL broadband customers.
Category: Broadband, Data Usage
I have always been a fan of writing and love to share information on latest technologies, mobiles, gadgets and social media. Sharing and acquiring knowledge is a boon, do let's share as well as acquire it. I am very much fond of Coffee.