Isn't it good to buy iPhone 5S (16GB) unlocked at $700 (the same iPhone 5S is available at $802 on Amazon site and the lowest quoted price is $755) and on the top of it, you could also get deal of using it free for one year with service plan offered by carrier.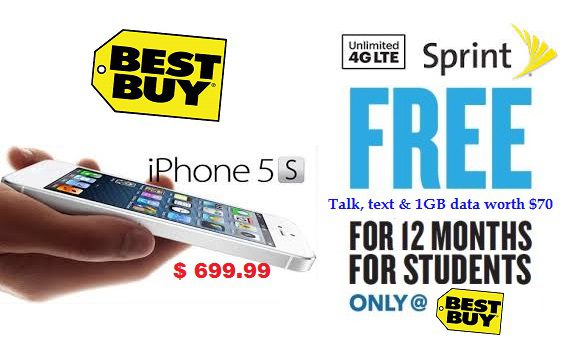 The Best Buy is offering heavy discount on some selected Smartphones including iPhone 5S, 5C and also offering 12 month free service plan "Unlimited My Way Plan" from US's third largest 4G LTE carrier, Sprint.
This offer is exclusively for students only, they can select a new Smartphone from a bunch of 25 selected Smartphones priced starting from $250 for Kyocera Kona to $900 for iPhone 5S 64 GB, (this iPhone 5S is priced $1070 at Amazon ).
On every purchase of smartphone, Best Buy is also offering 12 month free service plan "Unlimited, My Way plan" from Sprint which offer unlimited talk, text and 1GB of data usage at 4G speed worth $70.
Hence students enjoy discounted price of Smartphone as well as saving on service plan i.e. $70 per month.
If a student feels that 1GB of data is not sufficient for them, they can add another 1GB of data by paying just $10 per month.
If a student refer this program to his/her friend then they will get free Unlimited my way plan for another 12 months but for this student and his/her friend must be on the same account.
Sprint will charge $36 for activation of this program for each Smartphone.
To avail this benefit, you must be an active student enrolled in a US based elementary, middle school, high school, college, university or accredited institute.
Sprint offers HTC One for $699.99 without contract but you get this Smartphone from Best Buy for just $599.99 and in addition to this, you will get one year service plan "Unlimited My Way Plan" worth $840. Wow !!
This offer is available till 1-4-2014 only. For more details, please click here
Let us compare it with others who buy it from Sprint.
Hence Student gets almost 50% discount on purchase of iPhone 5S from Best Buy. Great deal
Category: Data Usage, World Telecom
I have always been a fan of writing and love to share information on latest technologies, mobiles, gadgets and social media. Sharing and acquiring knowledge is a boon, do let's share as well as acquire it. I am very much fond of Coffee.