In the recent storm in US wireless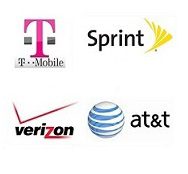 cellular market, the prices of most of the cellular plans are down and customers can now enjoy more data for either same price or reduced prices. But most of these changes happened in postpaid plans. Even carriers have launched double data offer to lure more customers to their postpaid plans.
But  for a budget conscious customer, prepaid plan is a boon, always, because it controls their spending on phone services. Customers, who don't change their handset frequently, also prefer to adopt prepaid plans. Once you have purchased a handset from a competitive market at its full price, now you just need services only.
Here we will see the prepaid plans offered by all four major carriers in US.
Verizon Wireless: It has only one prepaid plan "ALLSET" priced at $45 in which cost of starter SIM is included and it offers unlimited talk and text plus 500MB of LTE data. Customer can add more data from three choices of bridge data, 500MB data for $5 for 30 days, 1GB data for $10 for 90 days and 3GB data for $20 for 90 days. Customer can double their data and get 1 GB of data every month if they sign up for Auto Pay.
AT&T: It has three prepaid plan under brand name GoPhone. Prepaid plans starts at $25 which offers unlimited text, 250 minutes and 25MB of 4G LTE data. Additional data may also be added in steps of 25MB for $5. The next higher plan is priced at $40 which allows you unlimited text, 500 minutes and 500MB of LTE data. Here additional data is available at $ 5 for 500MB.
The highest prepaid plan comes for $60 which offers unlimited talk, text plus 2.5GB data. Data is sufficient for a moderate customers, even if one wants more data, then they can buy additional 1GB data for $10. So before selecting a prepaid plan, estimate your data usage, otherwise a wrong decision may cost you. Just see.  1GB data usage in $25 plan may costs you $220 while in $40 plan it cost you $45 only.
Sprint:  This carrier have cheapest prepaid plans, it has three plans at $35, $45 and $55, offerings unlimited talk and text plus 1GB, 3GB and 6GB respectively. Unlimited talk is on its own network  in non-roaming area but it also include 50 voice roaming minutes.
Fine prints shown that carrier stops Data access, once applicable allowance consumed by the customer.  Video streaming limited to 3G speeds only.
T-Mobile:  It has great choice of prepaid plans starting from $30. The $30 plan offers unlimited text and 100min for voice plus unlimited web but first 5GB data may be used at 4G LTE speed thereafter speed throttles to 2G speed. Customers  who don't need cellular data can opt for $35 plan which offers unlimited talk and text. Customer can use Internet  on Wi-Fi network.
T-Mobile have two more prepaid plan priced at $40 and $45 which comes with unlimited talk and text plus 500MB and 2GB high speed data respectively.
If prepaid customers want 4G LTE data with unlimited talk and text then it has same plans as it has postpaid plans. It has $50, $60, $70 and $80 prepaid plans which offers 1GB, 3GB, 5GB and unlimited data respectively. All these plans comes with unlimited talk and text. These plan also include unlimited International texting and unlimited music streaming on services like Pandora, iHeartRadio, and more — and it doesn't count against your 4G LTE data usage!
Category: World Telecom
I have always been a fan of writing and love to share information on latest technologies, mobiles, gadgets and social media. Sharing and acquiring knowledge is a boon, do let's share as well as acquire it. I am very much fond of Coffee.