Just one month ago, AT&T re-launched its prepaid brand Cricket Prepaid Wireless services with four plans, out of which three rates plans are almost matching with existing prepaid brands of T-Mobile's MetroPCS and Sprint's Boost Mobile.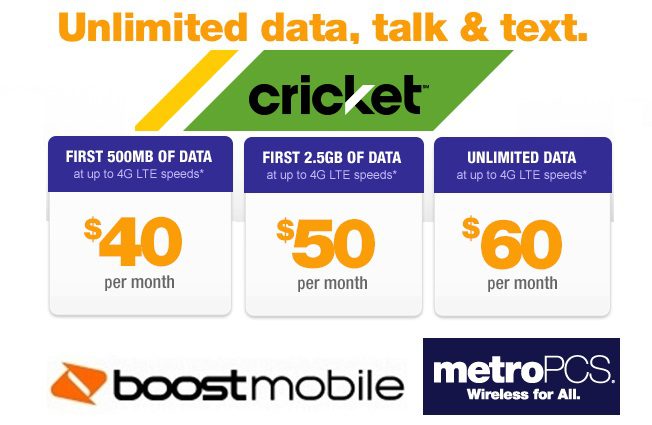 All these three brands i.e. Cricket, MetroPCS and Boost offers same three prepaid plans priced at $40, $50 and $60.
The $40 plan offers unlimited talk, text and data, first 500MB data usage at high speed
The $50 plan offers unlimited talk, text and data, first 2.5GB data usage at high speed
The $60 plan offers unlimited talk, text and data, first 5GB data usage at high speed
When they offer same rate plans then what are other features which differentiate them from each other ? Let us see so that we can choose the best prepaid brand for us.
Cricket Wireless: It also offer free unlimited International texting to 35 countries. You can use bundled data allowance at 4G high speed and after crossing the limit, speed throttles to 2G speed. If you sign up for auto payment, you get further $5 discount. If you want connection for all members of your family, you will get further discount of $10 for second line, $20 for third line and $30 for fourth and fifth line hence a family of five members can save $90 per month. Further if all of them sign up for auto payment then saving will shoot up further by $25, so total saving could be $115
MetroPCS: Here also you get same feature as offered by Cricket Wireless. The discount for additional lines for friends and family members get you $5 discount up to fine lines so a family of five members can save $25 a month only.
Boost Mobile: It don't have any special offerings for additional lines but it has referral program under which you may get credit of $25 for each referred friend who activate his phone number with Boost mobile. If you want reduced bill then you have to select $55 plan which has same feature as above $50 plan but comes with  shrinking payment option. Shrinking Payments reduces your payment by $5/month for every six on-time payments, down to as low as $40/month for $55 Monthly Unlimited plan.
Hope you can now choose best plan.
Category: World Telecom
I have always been a fan of writing and love to share information on latest technologies, mobiles, gadgets and social media. Sharing and acquiring knowledge is a boon, do let's share as well as acquire it. I am very much fond of Coffee.