Canadians who loves to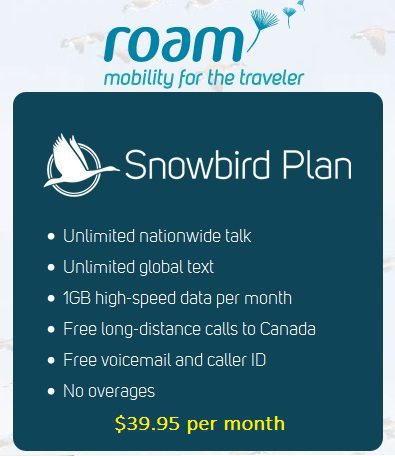 spend their winter season in United States, have two best options to be connected with their near and dear ones.
Canada's leading independent roaming service provider, Roam Mobility has announced an exclusive roaming plan, the Snowbird Unlimited talk & text with 1GB of high speed data for Canadians visiting US. The Snowbird plan is priced $39.95 per month but Canadian traveler have to purchase this plan for a minimum period of 3 months for $119.85.
The special feature of this plan, it offers free long-distance calls to Canada, voice-mails and caller ID. This plan can be used on your unlocked GSM phone, you just have to purchase the Roam SIM Card from Canada's largest multi-carrier mobile phone retailer, Glentel or from any one of 1000 more locations.
The Snowbird plan is the best option for travelers who stays in US for a longer period but for a short stay, T-Mobile offers also has the best value prepaid plan, $3 per day plan, which offer unlimited talk , text and throttled data usage (first 200MB data at up to 4G speed), you can make free calls to Canada by using Google Voice.
Now if you go for daily plan of Roam Mobile, it offers $3.95 per day plan which offers unlimited talk, text and un-throttled high speed 300MB data at 4G speed. In addition to this you can make free long-distance calls to Canada.
Category: Data Usage, World Telecom
I have always been a fan of writing and love to share information on latest technologies, mobiles, gadgets and social media. Sharing and acquiring knowledge is a boon, do let's share as well as acquire it. I am very much fond of Coffee.