Students of higher school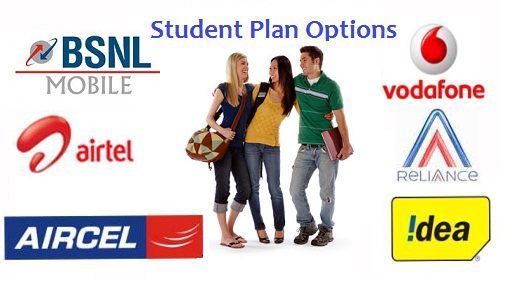 or college need mobile connections which let them to communicate between friends and family members and to use Internet for social media or some study material for the course. Students always look for plans which are at affordable price. Here I would like to mentions the options available for them from different mobile operators. Check it out and select the plan as per your requirement.
Idea: Idea have recently introduced Campus card for the college students of Delhi and NCR region. Idea Introduced Prepaid card of MRP Rs 79 which comes with talk value of worth Rs 30 and has validity of one month. The card also offers 400MB free data usage, 100 Local and National free SMS. Student can make local voice calls at reduced call rate @30p/min on Idea Network for all other calls on other network, the call rate is @40p/min.
Vodafone: Vodafone has launched two college campus cards for students of Delhi and NCR region colleges.
The Campus Card of MRP of Rs 149 has validity of 28 days and offers freebies of 1GB of 2G data usage and 100 Local and National free SMS. Student can make all voice calls whether it is local or STD at reduced rate of @40p/min.
Other Campus Card of MRP Rs 275 also has validity of 28 days but this card allows you to use 1GB data at 3G speed. It also offer 100 Local and National free SMS. Student can make all voice calls whether it is local or STD at reduced rate of @40p/min.
BSNL: BSNL is already having Student Special Prepaid Plan for all college students of India. The plan is priced Rs 97 and has validity of 180 days. The plan offers some freebies viz 45 min on-net and 45 min off-net voice calls, 45 MB data and 20+20 Local and National SMS. Student can make voice call at reduced call rates as 50p/min for all On-net Local/STD calls while 70p/min for off-net local mobile calls, 80p/min for all off-net STD mobile calls and 90p/min for all off-net STD fixed. To get the connection, please contact nearest BSNL CSC.
Reliance: Reliance has My college plan for all college students of India for just Rs 16 per month and offers free access to Facebook and use of WhatsApp. To avail this special plan first you have to subscribe to your college group by sending one SMS SUB<College ID> to 51111. The college ID can be found from RCOM site, click here.
After subscribing this plan now you can enjoy voice call within the group @5p/min and texting @5p per SMS.
Aircel: Aircel also have introduced recently new plan for students of colleges in Delhi and NCR region. The plan is called Fuccha and is priced Rs 149. The plan offers 333 local and STD minutes for 90 days. The local calls on Aircel Network will be charges @10p/min while all calls on other mobile network will be charged @50p/min. The plan also allow students to use free 1GB data usage at 2G speed along with 1500 local and National free SMS.
Students, who are using  Fuccha pack, will also get full talk time on next recharge of  Rs 51 and above.
Airtel: Airtel have special plan namely mobile campus for students of colleges of Himachal Pradesh and allows student to make Night and weekend calls @25p per min and SMS @10p.
m-Campus allows you to become a member of your college group and also allows you to avails awesome discounts & benefits like FREE SMS, Movie Tickets & much much more!
You can also enjoy free wap browsing on your mobile phone by using "airtel live" GPRS setting.
To join m-campus community first of all send <mcampus> to 54321 (toll free), you will get Mobile Campus link in your inbox and now type http://mobilecampus.airtelworld.com in your mobile browser, you will reach the join page of Airtel Mobile Campus, Click Join button and fill up your name and other details.
After clicking on the Submit button you are now in your Mobile Campus zone!. Here you can explore all the cool features, add / invite friends, send them blast SMSes for free and enjoy other benefits in the My rewards Section!
For m-Campus plan in other states please contact Airtel Shoppe.
How do you like it ? whether it helped you ? Leave your opinion in comments please
Category: Call Rates, Data Usage
I have always been a fan of writing and love to share information on latest technologies, mobiles, gadgets and social media. Sharing and acquiring knowledge is a boon, do let's share as well as acquire it. I am very much fond of Coffee.