Germany is the dream place to visit for may foreigners. During visit Germany, for whatsoever purpose, it may be as tourist, studying, business tour or many others, you always want to be connected with your family, friends or office for which you need telecom services. You may either use your own country's phone in Germany, in roaming, but you may not like to pay hefty roaming charges. The best way is therefore, you should go for local prepaid connection in Germany.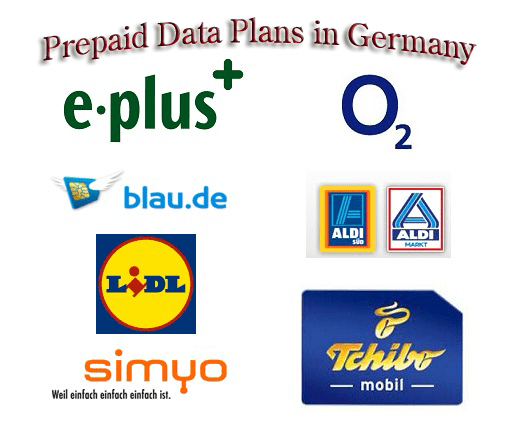 Germany has four major carriers, namely Telekom, Vodafone, E-Plus and O2. It is reported that E-Plus and O2 are merging so primarily there would be three mobile operators in Germany. All these carriers are offering 2G to 4G LTE data services and all of them have a good number of MVNO network that serve telecom services even through grocery shops. Currently around 145 MVNOs are operational in Germany.
To get mobile prepaid connection, you need to show your ID, foreigners may use their Hotel or Hostel address and their copy of Passport.
Before going for prepaid connection, you should compare different plans of different carriers and their MVNO. Here I am making an effort to put prevailing rates in Germany.
To make an International call, you may use Skype or any other voice/video calling application but ensure that your prepaid plan allows you to make VoIP calls because VoIP calls are officially allowed only by E-Plus and O2 and some of its MVNOs. Vodafone has put ban on VoIP calls. So during comparison we will see those plans which comes with maximum data allowance at affordable price.
Vodafone and e-plus  offers 4G LTE plans to prepaid customers. Vodafone charges extra for LTE access of its own brand, e-plus allows LTE access to all customers of all its providers without a surcharge, but requires the new iOS8 for the iPhone. However LTE is available on iPads. Telekom and O2 don't offer 4G LTE plans to prepaid customers.
In Germany, data-only SIMs are rare, almost all Prepaid SIM cards can be used for phone calls, text and data. The standard rate  for domestic voice call is 9 cents per minute and SMS charges are also 9 cents per SMS. Default data rates are very high, more than 20 cent per MB but if you buy a data pack, the data rate may be reduced around 1 cent per MB. Better to go for flat mobile data pack.
Most prepaid SIM card costs 5 euro to 13 euro and most of carrier/MVNO credits almost equal amount of credit, making initial cost of SIM free.
Blau   MVNO operates on E-Plus network and has flat mobile data packs, 100MB data costs €4.90/month, 1GB data packs has price tag of €9.90/month. 3GB and 5GB data packs are priced at € 14.90 and € 19.80 respectively.
Tchibo Mobil uses O2 network and has flat mobile data packs at €6.95/month for 300MB, €9.95/month for 500MB and €9.95/month for high speed  300MB.
Lidl Mobile Classic MVNO rides on O2 network and has flat mobile data packs at €3.95/month for 150MB,  €6.95/month for 500MB and 5GB data pack for €14.99/month.
Simyo uses E-Plus network and you can buy 200MB flat data for €4.90/month, 1GB data for €9.90/month and 3GB data for €14.90/month
ALDI TALK (MEDIONmobile) rides on E-Plus network and offers  affordable unlimited mobile data packs at € 3.99 (speed throttles after 150 MB), € 6.99 (speed throttles after 500 MB), € 9.99 (speed throttles after 1.5 GB) and at € 14.99 (speed throttles after 5 GB).
I hope now you may select the right plan for you while in Germany. Indian visitors may decide their plan in India by visiting Uniconnect.in site, this portal offers International SIM in Indian rupees, you can buy SIM for Germany for Rs 200 which comes with free talk time of Rs 78.90 and data plans for € 5 for 500MB data. It offers recharge in multiples of Rs 800.
Category: World Telecom
I have always been a fan of writing and love to share information on latest technologies, mobiles, gadgets and social media. Sharing and acquiring knowledge is a boon, do let's share as well as acquire it. I am very much fond of Coffee.