USA's four major carriers are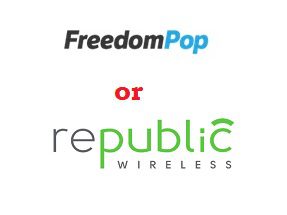 now a days offering damn cheap mobile services in the country but even though there are many other alternatives which offers mobile phone services just free or at the meager amount up to $10 per month.
Let us see those alternatives
FreedomPop: This Los Angeles-based carrier offers mobile services by using Sprint network and offers almost "free" mobile service including international calling.
If you keep it to 200 minutes, 500 texts and 500 MB of data then mobile service costs you just nothing. The carrier also have most popular plan at $19.99 which is being offered absolutely free for one month and this plan offers 2GB data free. This offer is for a limited time only.
The carrier has another best plan at $28.99 which offers 4GB data. The carrier also offers data roll over that means your unused data can be used in subsequent month and you can bank up to 20GB. You just  need to bring your own phone, or buy one from FreedomPop. For more details visit www.freedompop.com.
Republic Wireless. This virtual network carrier offers a $10/month plan which allows you to use unlimited voice calls and texts over Wi-Fi and cellular network plus unlimited data on Wi-Fi only (although for $5, you can get a Wi-Fi-only plan).
The $40 plan is more comparable with regular wireless options, and this one offers unlimited talk, text and up to 5 GBs of 4G data per month. Customer are allowed to use unlimited data but beyond 5GB, speed reduces or you may use data on Wi-Fi network. To avail these plans you've to use Republic Wireless phones. The carrier provides mobile services on default Wi-Fi otherwise it uses Sprint's network. The carrier has 4G options including Moto X, which starts at $299. For more details visit www.republicwireless.com.
Category: World Telecom
I have always been a fan of writing and love to share information on latest technologies, mobiles, gadgets and social media. Sharing and acquiring knowledge is a boon, do let's share as well as acquire it. I am very much fond of Coffee.