T-Mobile again prepared to shack America's mobile world with revamping its device upgrades program "JUMP". Starting February 23rd 2014, The carrier will allow its all new as well as existing JUMP customers to swap their old smartphone whenever they want, breaking the earlier condition of twice in a year.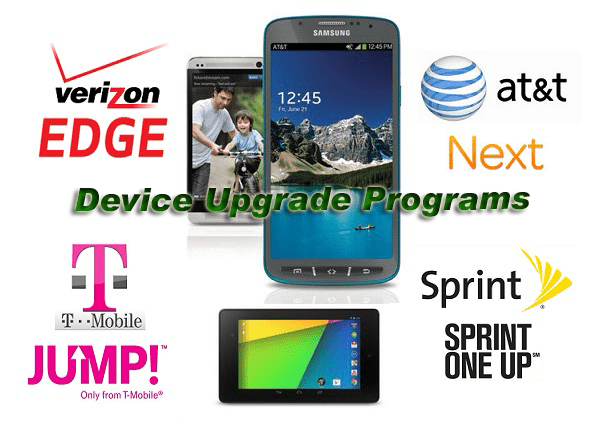 The critical caveat of this new JUMP, you should have paid half cost of the device before you get a new one. At present you are eligible to upgrade your device after 6 months subject to 25% of the cost has been paid off but after February 23rd, you will be eligible to upgrade your device any time condition is that you have to pay at least 50% cost of the device.
T-Mobile is the carrier which has included Tablets under this new Jump program starting after a week.
Few days ago, Verizon has also revamped its device upgrade program, "Edge", and allowed customers to upgrade their smartphone just after 30 days.
AT&T also offers to upgrade your device once in a year through its "Next" but Sprint have closed its device upgrade plan "One Up" from January 9, 2014.
I have just compared all these device upgrade plans as shown in below table including One Up, though it is closed now.
You will see almost upgrade program of all carriers are having almost same features, their first and foremost important motive is that you have paid off at least 50% of the cost of the device to carrier at the time of upgrade.e
Have you got the idea which one offers more advantages to enter device upgrade program ?
Verizon offers discounts of $10 or $20 on service plans, while AT&T waives off activation fee and also you can save $25 or $15 as compared to its own 2 year contract plan.
Sprint has already closed its device upgrade program otherwise it was also giving discount on some selected service plans as shown in the table.
Still excited to see the actual offer under JUMP from T-Mobile.
After closing One Up, let us see what program Sprint brings for customers to upgrade their old smartphones/tablets.
Category: World Telecom
I have always been a fan of writing and love to share information on latest technologies, mobiles, gadgets and social media. Sharing and acquiring knowledge is a boon, do let's share as well as acquire it. I am very much fond of Coffee.