Growing penetration of smartphones/ tablets has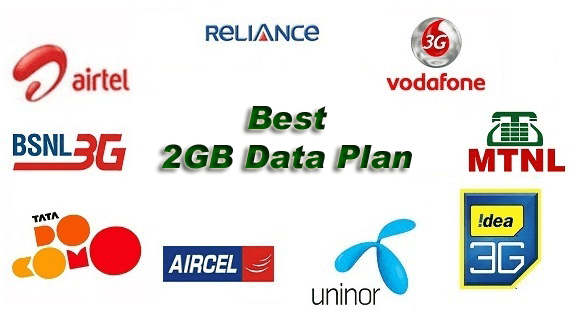 increased the use of Internet and now it (Internet) has become inevitable in daily life of peoples, specially for youth.
I had tried earlier also to put comparative rates of major 3G mobile operators of India, to help to choose right plan in your budget.
After recent hike in telecom tariffs, let us see again on the comparative rates.
I hope 2GB data pack is sufficient for a moderate consumer so let us find which operator has best deal for your smartphone or dongle use.
The rates for Vodafone varies from circle to circle, the rate shown in table is for Chennai and TamilNadu circle however in rest part of India it offers 1GB @Rs 251 and 2GB @ Rs 449.
Airtel offers 3G data packs at the rates where all other private operators offer but customers at 8 places like Bengaluru, Pune, Kolkatta, Chandigarh, Mohali, Panchkula, Ludhiyana and Jalandhar may enjoy ultra high speed of 4G at the rates of 3G. Airtel offers 4G data packs of 1GB at Rs 250 and 2GB at Rs 450 only.
RCOM has different data packs for Smartphones and Dongles. The rates shown in table is for Smartphones while rates for data pack is different for dongle, you have to pay Rs 255 for 1GB and Rs 449 for 2GB. RCOM offers discounted tariffs for customers in Assam, Jammu & Kashmir, North East and Orissa circle where it offers 1GB data pack for just Rs 123 and 2GB data pack for Rs 246.
Tata DoCoMo offers Power packs of Rs 155 which offers 1GB to 1.5GB data usage according to circle.
Uninor offers only 2G services but its rates are very much competitive and taken just to compare with all other operators. The rates shown in table is for Bihar circle where it offer cheapest rates.
Although BSNL and RCOM are offering data packs at almost same rates but charges for additional data usage after free data is cheaper with RCOM, it charges just 0.3p/10KB only. Tata DoCoMo and Aircel charges heavily after you exhaust free limits.
Hope this post will help to choose the right data plan for you. Don't forget to share your views in comments.
Category: Data Usage
I have always been a fan of writing and love to share information on latest technologies, mobiles, gadgets and social media. Sharing and acquiring knowledge is a boon, do let's share as well as acquire it. I am very much fond of Coffee.