If you are budget conscious and always worry about fluctuations in prices of broadband plan of major telecom operators then you have another option to get broadband connection. It is your Cable TV operator, your Cable TV operators are also providing broadband services and that too at very reasonable price at very high speed.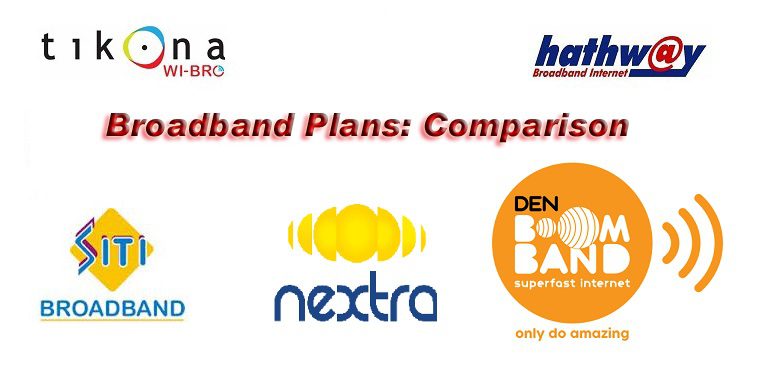 I have compiled broadband plans of some of Cable TV operators who are providing broadband services in Delhi as shown in below table wherein it is clear that prices are quite cheaper as compared to regular telecom service providers.
In the above list, Tikona is not a Cable TV provider and all other four are Cable TV providers, all above five offers unlimited broadband plans as seen above
Tikona has broadband plans starting Rs 700 but if you compare other plans of other Cable TV operators, Siti Cable's plan looks more attractive as they are offering even more high speed at the same prices.
Siti Cable has budget plans at low rates starting Rs 349 and also offers top-up vouchers for each broadband plan. its top-up voucher for 1GB data costs Rs 50, 2GB for Rs 80, 5GB for Rs 175 and 10GB for Rs 300.
DEN network offers broadband services under the name of Den Boomband and its plan starts at Rs 599 for 15GB  at 5Mbps. If you want more data at same download speed then you can get more data by paying slightly more like for Rs 700, you can get 30GB at 5Mbps download speed.
Nextra is also offering more attractive broadband plans as shown above, however if customer keeps the broadband plan for longer duration, they get extra benefit of up to 30% more data. The add-on on each plan also cost very less, like if you add 15GB extra then you have to pay just Rs 300.
Hathway offers broadband plans for minimum three month basis. The main attraction of Hathway is its ten times faster download speed at 50Mbps in all plans. If we calculate monthly prices then its plans are giving more data at very high speeds.
For a customers who consumes 1GB data on an average per day then for them, Tikona has the best affordable plan at Rs 750 at 4Mbps download speed which is quite enough to watch online movie.
Category: Broadband
I have always been a fan of writing and love to share information on latest technologies, mobiles, gadgets and social media. Sharing and acquiring knowledge is a boon, do let's share as well as acquire it. I am very much fond of Coffee.