Just a few days ago, Vodafone, UK also allowed 4G access to its pay-as-you-go customers so now they can enjoy 4G speed while surfing the net on their 4G enabled devices.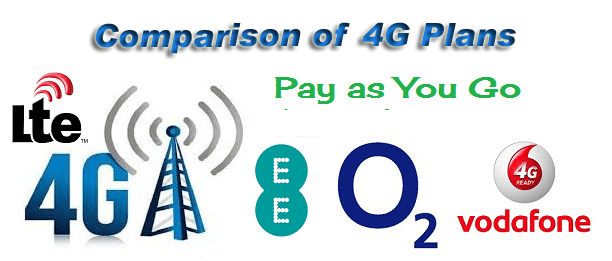 Vodafone's 4G deal is called Freedom Freebee and they start at £20 for 2GB of 4G data, with 500 minutes of calls and unlimited texts to UK numbers. The next big data plan is 4GB 4G data plan which costs £30 and comes with unlimited calls and texts. The highest 4G PAYG plan is for 6GB which costs £40 and it also comes with unlimited calls and unlimited texts.
Vodafone also offers free subscriptions to Sky Sports Mobile TV, Spotify Premium or Netflix to PAYG customers opting for the £30 and £40 Freebee deals.
UK's largest 4G carrier EE, launched 4G PAYG plans almost a year ago and its plans costs between £3 and £30. A 1GB 4G data add-on for PAYG costs £10 and comes with validity of 30 days while 2GB data add-on costs merely £15, 4GB data add-on is priced at £20 and with adding £10 more, you can get 10GB for just £30. For voice calls and text, PAYG customers need to add add-ons for voice calls and texts separately as per need and these add-on comes in the range of £2 to £10.
O2 also has 4G ready PAYG Big Bundles at £15 for 1GB 4G data, 200 min calls and 2000 texts while its next PAYG plan costs £20 for 2GB 4G data, 400 min calls and 4000 texts.
All above PAYG deals are shown in tabular form so that you can compare at yourself
It looks, Vodafone has the best deals for PAYG customers.
Category: Data Usage
I have always been a fan of writing and love to share information on latest technologies, mobiles, gadgets and social media. Sharing and acquiring knowledge is a boon, do let's share as well as acquire it. I am very much fond of Coffee.