USA: After offering free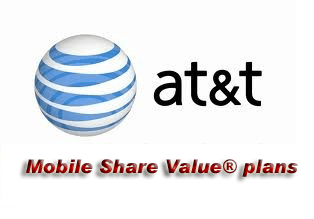 calling to Mexico and Canada by T-Mobile and then Sprint, now the nation's second major carrier AT&T has taken a serious note of it and also started offering unlimited free calling and texting to Mexico and Canada for its own customers but this offer is not for all customers. It is a limited offer for a new data plan of 15GB costing $100 and 25GB data plan costing $175.
AT&T has also followed the trendsetter T-Mobile and made changes in its mobile share value data plans as per following.
The data plan of 1GB and 3GB have been eliminated and launched a new data plan of 2GB costing $30 a month, totaling $55 with access charge for your device.(T-Mobile offers 1GB data plan for $50 and 3GB data plan for $60)
The data plan offering 5GB has been eliminated and a new data plan of 6GB has been launched for $50 per month ($75 per month with access charge). (T-Mobile offers 5GB data plan for $70 a month)
The major change has been done in 10GB data plan in which free data allowance has been bumped up to 15GB at the same price of $100 per month ($115 per month with access charge). With this change, regular 15GB data plan costing $130 has been eliminated.
The price of  20GB data plan has been reduced by $10 and now it will cost just $140 a month ($155 per month).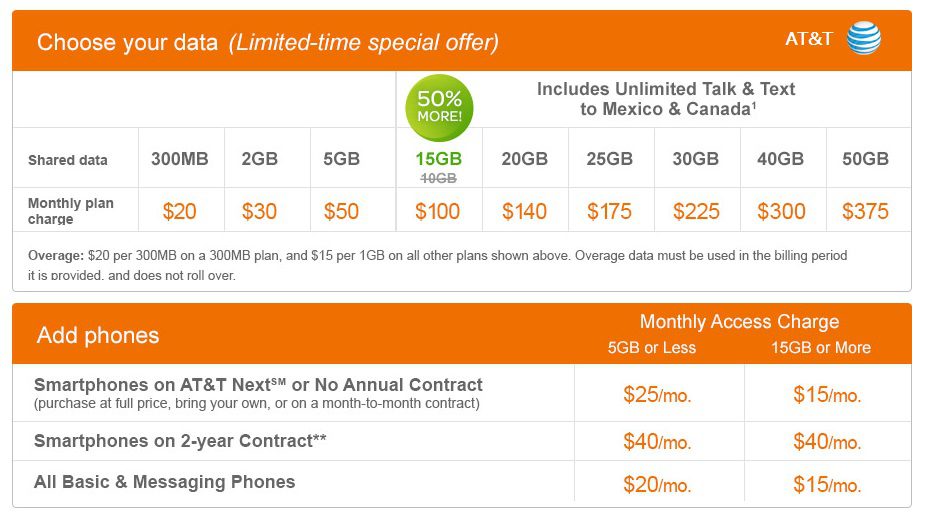 In addition to above competitive data plans, T-Mobile also offers a new family plan promotion that offers each customer unlimited voice, texting and 10 GB of data and includes a monthly price of $100 for two lines additional lines costs extra $20 per line. T-Mobile is also offering fourth line free of cost till Labor day (Sept 7, 2015) hence a family of four can get 10GB of LTE data for each family member for just $120 per month only.
The tirelessly competition, given by T-Mobile by their innovative ideas and attractive plans, is now giving benefits to customers of other carriers specially nation's major carriers. If you remember, at a time (just two years ago) AT&T was offering 2GB data plan for $50 plus access charge $45 i.e. $90 per month and 15GB data plan for $160+$30=$190 per month. Now see the difference with today's costings.
Category: Data Usage, World Telecom
I have always been a fan of writing and love to share information on latest technologies, mobiles, gadgets and social media. Sharing and acquiring knowledge is a boon, do let's share as well as acquire it. I am very much fond of Coffee.