You are working on your laptop and you also want to keep 
your naughty kid busy, just sitting opposite to you. Imagine your laptop could have two screen, both side of the lid of your laptop so that your kid could watch a cartoon movie on other screen of your laptop. Here is the solution because a US based leading computer company ASUS launched its TAICHI convertible "Ultrabook" which has the most outstanding feature of dual full HD screens. This product is called Ultrabook because it can be used as tablet as well as laptop.
The stylish ASUS TAICHI's ultrabook is an incredible fusion of laptop and tablet. You open the lid it is a fully featured ultra-portable laptop and close the lid, you can feel it as a sleek and powerful multi-touch tablet.The two screens are completely independent of each other and can also be used simultaneously, which means the Taichi can be shared with two users  that is why I imagined that you can work on your laptop, with lid open, and your kid can watch a cartoon movie on other side.
One catch is that only the back display has multi touch mode because it is the display which will be used most of the time as slate/tablet mode.
Taichi's dual screens Ultrabook is offered in different configurations, with either an Intel Core i5 or Core i7 processor.
This Ultrabook configured with core i5 processor, 4GB RAM and 128 GB SSD is prices at $1299 while ultrabook with storage of 256 GB, you have to pay $ 1499.
The Ultrabook configured  with Core i7 processor and 256 GB SSD  is prices at $1599.
At present Ultrabook is available in 11.6 inch sizes but later on the company is planning to unveil 13.3 inch ultrabook by the year end and will cost Singapore $ 2698.
The features  and specifications of Asus Taichi's Ultrabook are as follows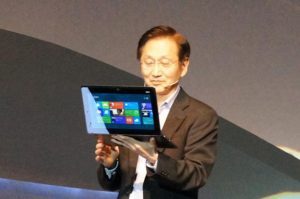 Works on Windows 8 Operating System
Powerful  Intel Ivy Bridge Core i7 processor
Intel HD 4000 graphics
4GB RAM
Screen of 11.6 inch with resolution of 1920 x 1080 pixels
5-megapixel auto-focus camera on rear side and a up front 720p web camera.
Trackpad Pointing Device
Backlit Keyboard
Connectivity on Wi-Fi, Bluetooth
Two ports of USB v3.0 provide full support for the latest high-speed external storage devices and rapid mobile device recharging
3.5 mm Audio jack
A dual-screen system will consume more power but still it has a battery that has atleast 5 hour for uninterrupted enjoyment.
Category: Tablet
I am tehnocrate and love to share my views and technical knowledge on all types of topics related to telecom, social media and gadgets. I just love tea and food.