Airtel have launched 4G services in Chandigarh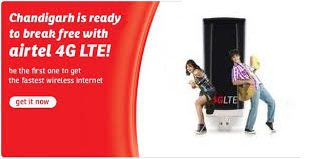 and its nearby place Mohali and Pachkula so now residents of this area may experience 4G services. Airtel's 4G services is already running in Kolkata, Bengaluru, Pune and now 4G services are now available in Chandigarh  also. The next place of roll out of 4G services could be Delhi, Mumbai, Haryana and Kerala.
Airtel claims speed of up to 100 Mbps download and 40 mbps upload on their 4G plans but you will be lucky one if you get speed of around 30 mbps download and 10 mbps upload in 4G services.
The speed of 4G is awesome, if we compare it with 3G,  like we know that 3G services are available at speeds of 2 mbps, 3.6 mbps, 7.2 mbps, 14.4 mbps and 21 mbps but customers get actual speed of 3G  as 1100kbps for download and 500kbps for upload while actual 4G speed experienced are 30 mbps download and 10 mbps upload.  Now you can imagine how fast 4G is. The major difference between 3G and 4G is that voice calling is also available in 3G but now TRAI have also allowed it for all operators and Reliance is planning to launch 4G services with voice calling very soon.
Almost all mobile operators offers 1GB of data usage at the speed of 3G for Rs 250  and if you opt for 6GB data usage plan, they charges almost in the range of Rs 750 to Rs 850.
If we look at the 4G plans of Airtel, it offers 6GB data at the speed of 4G just for Rs 999-Rs 167= Rs 832 which is almost same as 3G  plans but advantage is that you get 4G speed. After consuming data of 6GB, the speed reduces drastically 128 Kbps but you can surf the web without any additional charges.
The 4G technology that includes a dongle for laptops and PCs is priced at ₹4,999. Airtel is offering four plans – Free, Break Free Max, Break Free Ultra and Break Free Ultimate – priced between ₹999 and ₹2,999
Category: Data Usage
I have always been a fan of writing and love to share information on latest technologies, mobiles, gadgets and social media. Sharing and acquiring knowledge is a boon, do let's share as well as acquire it. I am very much fond of Coffee.