Bharti Airtel has slashed its all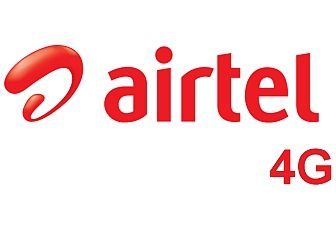 package for 4G services by 31% and also introduced six new post paid plans for low budget users of Bengaluru, Kolkata, Pune and Chandigarh circles.  This move seems to be an attempt to lure and encourage more and more customers to enjoy super-fast 4G speeds.
The new 4G data plans priced at Rs.450, Rs.650 and Rs.750 offers similar data usage as that of 3G data plans but plans starting Rs 999 and above avails you data usage at much cheaper cost of Rs 100 per 1GB. The highest data plan of Rs 4799 offer you 80GB data usage (average Rs 60/GB).
Airtel also introduced one more 4G plan of Rs.2000 with bundled data of 40GB but this is a Wifi Router locked plan and is available in select geographies only.
The bundled data usage in earlier plan of Rs 999 "Free" has been increased from 6GB to 10GB and data usage in earlier plan "Break free max" of Rs 1399, which is now re-priced at Rs 1299,  have been augmented from 9GB to 12GB. The earlier "Break free ultimate" plan priced at Rs 2999, now offer increased data 45GB from its earlier data of 30GB.
The customers who will subscribe plan Rs.999 and above will also be able to enjoy free access to an entertainment library of 1,000 movies and 100 games powered by BigFlix and indiagames.
All these 4G data plans are post paid and are unlimited in nature but after exhausting bundled data usage, the user can use data at a drastically reduced speed of 128Kbps
Earlier Airtel was having four 4G plans namely as shown below and now Airtel have following 4G plans.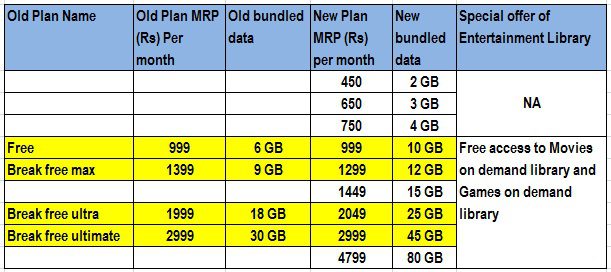 Reliance Jio Infocomm (then Infotel Broadband Services) is also planning to roll-out its 4G services very shortly and as per unconfirmed news, Reliance is going to launch 4G services for data as well as voice communication with an introductory plans of  just Rs 10 only with bundled data of 1GB at 4G speed.
Isn't it so much crazy !
Category: Data Usage
I have always been a fan of writing and love to share information on latest technologies, mobiles, gadgets and social media. Sharing and acquiring knowledge is a boon, do let's share as well as acquire it. I am very much fond of Coffee.