India's largest private mobile operator Airtel, which has launched customisable postpaid plans myPlan, has now expanded its myPlan, made it more flexible. This comes after the launch of i Plan from Idea Cellular, i Plan is exactly same postpaid plan with more flexibility.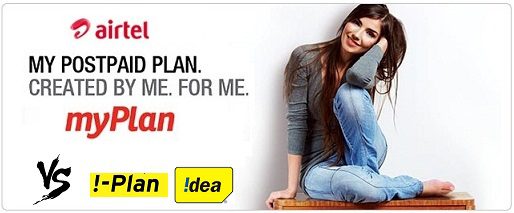 Now Airtel have added two more postpaid plans of myPlan 799 and myPlan 1599 with free myPacks 27 and 80 respectively.
But for small budget customers, number of free myPacks has been reduced for starting postpaid plans. Like the number of mypacks has been reduced from 4 to 2 for myPlan199, 8 to 6 for myPlan 299, 12 to 9 for myPlan399 and 20 to 15 for myPlan599.
Correcting the shortcoming of earlier version of myPacks, Airtel has also added myPack of STD calls which allow customers 75 min free STD calls. (Idea offers 90 min)
If we again compare this new set of postpaid plans of Airtel with Idea, again we find that Idea offers more freebies but as an exception, Airtel offers 200 SMS in comparison to Idea's 150 SMS.
Comparison of postpaid plans of Idea and Airtel
You can compare freebies with postpaid plans of Idea and Airtel

For other details of these postpaid plans, please click here
Category: Call Rates, Data Usage
I have always been a fan of writing and love to share information on latest technologies, mobiles, gadgets and social media. Sharing and acquiring knowledge is a boon, do let's share as well as acquire it. I am very much fond of Coffee.