India's only 4G LTE operator, Airtel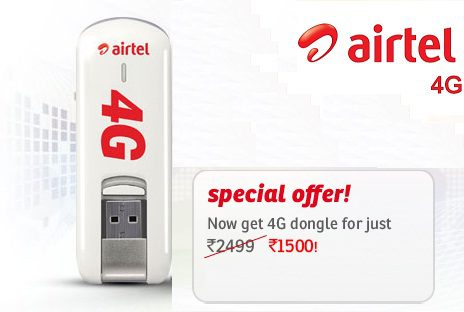 is offering data services at 4G speed and it had slashed 4G tariff plans and is offering it at rates of 3G plans.
In order to push further 4G data services and to make it affordable for budget oriented Indian consumers, Airtel has again reduced price of 4G USB dongle third time from Rs 2499 to Rs 1500 as a special offer, a price at which you get a 3G dongle.
At the time of 4G services in India, 4G USB dongle was priced Rs 7999. Airtel reduced the price of 4G dongle in July-2012 from Rs 7999 to Rs 4999 and again it was available at Rs 2499 from December-2012 till now.
Airtel also have two special plans with which it is offering 4G dongle free so let us find out what it cost you if you go for these special plans.
Airtel has Special 4G plan 2999-2 month plan which offer free 15GB per month for two months so you pay Rs 2999 per month for two months and after that Airtel will bills you Rs 1449 for 15GB for next four months. Hence in first two month you pay extra Rs 1550 per month, total extra Rs 3100 for 4G dongle.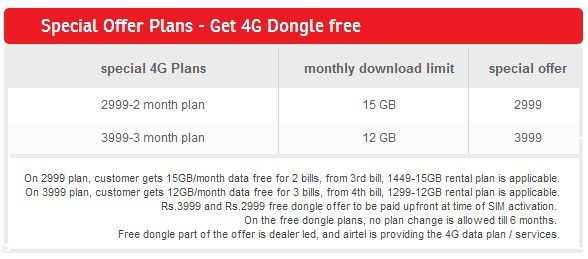 Airtel has another Special 4G plan 3999-3 month plan which offer free 12GB per month for three months and in this plan, you also pay extra Rs 1550 per month, total extra Rs 3100 for 4G dongle.
Airtel's 4G LTE services is available in Kolkatta, Bengaluru, Pune, Chandigarh, Mohali and Punchkula cities and very soon it will be available in Mumbai and Delhi.
Which plan you prefer now, 4G dongle for Rs 1500 or you want it free with Special 4G Plans  which cost you Rs 3100 extra for 4G dongle !
Category: Data Usage
I have always been a fan of writing and love to share information on latest technologies, mobiles, gadgets and social media. Sharing and acquiring knowledge is a boon, do let's share as well as acquire it. I am very much fond of Coffee.