USA: As soon as Cricket Wireless launched a new cell phone plan offering unlimited 4G LTE data for $70/mo, starting from April 17, 2016, T-Mobile has compared it with its MVNO MetroPCS's unlimited data plan that costs $60 but you will wonder that there are more option in US market to get unlimited data plans as listed below.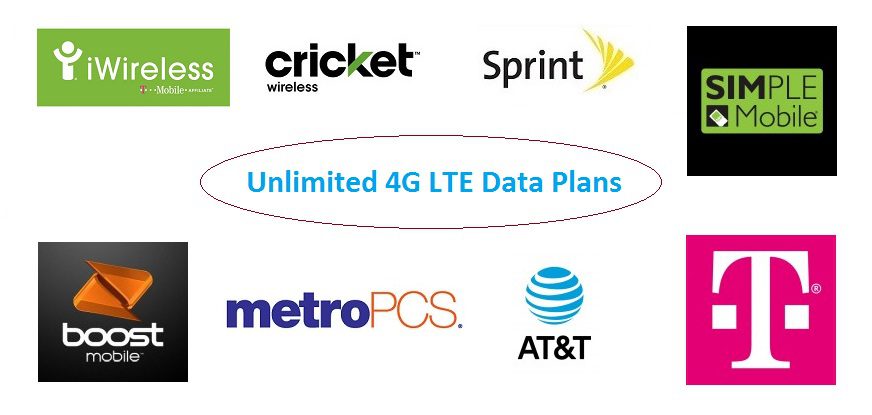 After going through the details given below you can easily judge which operator is selling unlimited data plan at affordable and competitive prices. You just need to consider the coverage of the operator so that you can use unlimited data plan smoothly.
Cricket Wireless offers unlimited 4G LTE data plan for $70/mo and it includes unlimited talk, text, international texting and full roaming across Mexico and Canada. If you opt auto-pay, you can save $5 and it costs $65 only.
MetroPCS: This MVNO already has unlimited 4G LTE data plan on the blazing fast network of T-Mobile at the rate of $60/mo. It also include unlimited talk and text with other features like unlimited Music from over 40 music streaming service providers such as Spotify and Apple Music without counting data, used for music, against your high speed data cap.
T-Mobile's another re-seller Simple Mobile has recently revamped its plans and it offers unlimited 4G LTE data plan for just $60/mo. The plan features Unlimited international calling up to 15 unique destinations and full roaming including data while in Mexico. The MVNO offers some discount if customer opt for auto-pay in other plans other than this unlimited data plan.
T-Mobile offers unlimited 4G data plan for $95/mo which also includes unlimited calling and texting to Mexico and Canada, includes unlimited data and international texting in 140+ countries. Customers can also use free Wi-fi calling. BingeOn included, stream unlimited video.
Boost Mobile: This Sprint MVNO also offers unlimited 4G LTE data plan for just $60/mo and it can cost $55/mo if customer opts for auto-pay. This is one of the cheapest plan among the carrier offering unlimited 4G LTE data plan. The plan offers unlimited calling, texting and music without data charges.
Sprint's another MVNO i-Wireless also offers unlimited 4G LTE data plan for $55/mo that includes unlimited talk and text.
Sprint itself offers a unlimited 4G data plan for $75/mo for customers who opts for buying devices under Instalment, lease or outright purchase. While international roaming to select countries they can also use unlimited data at 2G speed.
AT&T also offer unlimited data plan for $100/mo for customers who subscribe for  DIRECTV service. The plan includes unlimited talk and text. This plan is the costliest among all above plans.
Category: World Telecom
I have always been a fan of writing and love to share information on latest technologies, mobiles, gadgets and social media. Sharing and acquiring knowledge is a boon, do let's share as well as acquire it. I am very much fond of Coffee.