To experience the blazing fast speed of 4G network, you need 4G/LTE enabled Smartphone but if you don't want to upgrade your existing 2G/3G Smartphone or tablet, you can nevertheless experience 4G speed by using 4G supported WiFi dongles.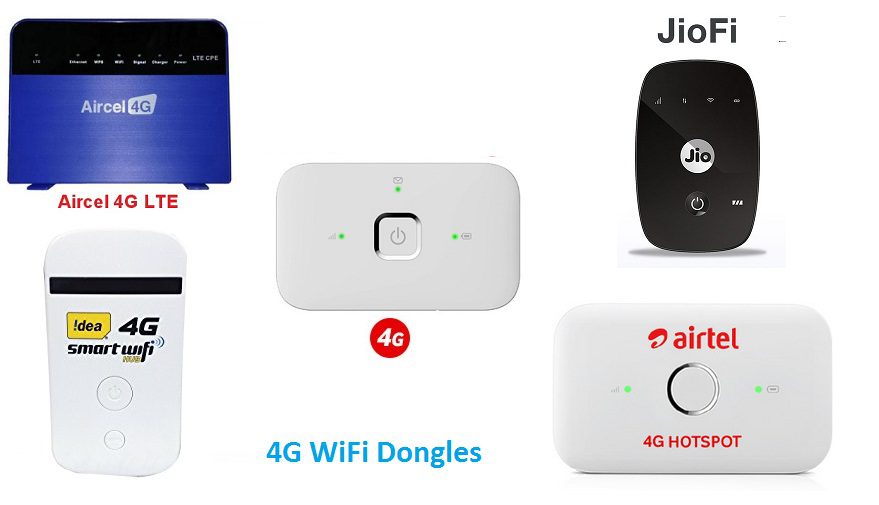 After the aggressive marketing for JioFi device (dongle) from Reliance Jio for price of Rs 1999, other 4G service providers of India are trying to match the price of their 4G WiFi dongles. Recently Airtel has slashed the price of its 4G Hotspot device (dongle) from Rs 2300 to Rs 1950 while Vodafone is still selling its 4G Mi-Fi device (dongle) at Rs 2399. Idea cellular is also not slashed the price of its 4G Smart Wi-Fi Hotspot device from current price of Rs 3150. Aircel is also offering its 4G WiFi Gateway (dongle) for Rs 2500 since long. In ensuing, all 4G service provider may offer their at almost same price, let us wait for that.
But now let us see the features of these dongles as narrated below
JioFi is true 4G device with download speed up to 150Mbps and upload speed up to 50Mbps. It can connect 10 devices and is powered by 2300mAh battery which last 5-6 hours. Airtel's 4G WiFi and Vodafone's 4G Mi-Fi device (dongles) also connect 10 devices and both sports 1500mAh battery for back-up up to 6 hours. Super WiFi 4G Hotspot dongle of Idea cellular also has similar features but it is powered by 2000mAh. Aircel's 4G LTE WiFi device connects 32 users simultaneously.
To use the 4G WiFi device, you have to choose affordable data plan so before buying any of these device, first go through 4G data plan of the service provider.
Category: Data Usage
I have always been a fan of writing and love to share information on latest technologies, mobiles, gadgets and social media. Sharing and acquiring knowledge is a boon, do let's share as well as acquire it. I am very much fond of Coffee.